What Is a Tarpaulin:
Tarpaulins are a form of sheeting with eyelets. Cover, transport, create shelter, act as a waterproof tarpaulins cover, and much more. They are usually made from either plastic or heavy-duty fabric such as densely woven cotton.
Tarps a created by taking a sheet of material and hemming it; done by either stitching or heat sealing. After hemming, eyelets are generally made of brass or nickel, and then the sheeting can be closed. The eyelets mean that the sheet can be hung and fixed to frames, roofs and as a cover. Bungees and other fixBungees can be used to secure the tarpaulin in adverse weather conditions or during high winds. An elastic cord is ideal because it takes the stress away from eyelets.
When choosing a tarpaulin the higher the weight the better. The higher the GSM (grams per square metre) value, the better the quality and weave of the sheeting. This is a standard measurement across every type of material such as canvas, polyethene, fabric and PVC and can be used as a yardstick when comparing them. Heavy Duty Tarpaulins are more suitable for outdoor use.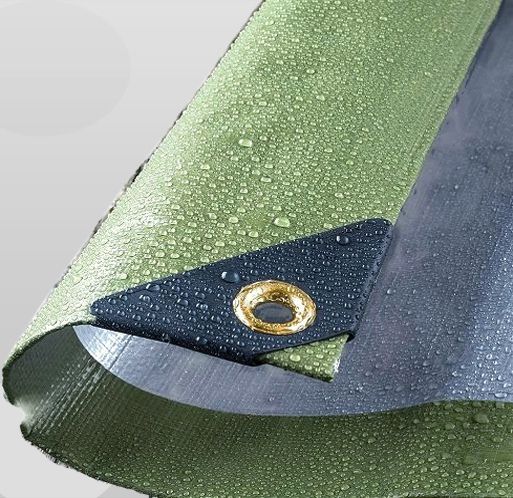 Maintenance is something that needs to be taken into account. We advise our customers to regularly re-treat materials such as canvas that come waxed. If subjected to poor weather conditions, it will need to be treated more often. In the case of plastic sheets, none of these treatments is necessary, however, they are considered inferior aesthetically.
For outdoor use, UV treatment and waterproofing are essential. Any quality product will include these but it is worth checking.
Another thing to take into account is 'cut size' and finished size'. A tarpaulin will usually be advertised based on the 'cut size,' which represents the size of the fabric without hems. Because a lot of the work is done by hand, each specific tarp will come out with a slightly different 'finished size'. It is possible that the dimensions are a bit smaller than the advertised ones; depending on the manufacturer and the retailer.
Make sure you purchase a tarpaulin that is larger than what you actually need, so you have room to work with it and you will be prepared for any unforeseen problems.
Some tips for covering roofs and other areas with economy and heavy-duty tarpaulins and for using as a basha are provided below.
Do not allow water to pool, as it can damage the tarp.
As suggested previously, use a bungee cord if possible rather than a rope.